Visas & Arrivals
Last updated: 16 February 2015
Visas Required for New Zealand
People from certain countries do not need to apply for a visa before travelling to New Zealand. On arrival in New Zealand, they will be asked to provide:
travel tickets or evidence of onward travel arrangements; and
evidence of funds for maintenance
If a person is visiting New Zealand for three months or less and is from a visa-waiver country (see list on the Immigration website here), this person will not need to apply for a visitor visa before arriving in New Zealand as long as the purpose of the visit is for a lawful purpose.
A person is deemed to apply for a visitor visa by completing the required "New Zealand Passenger Arrival Card" and if granted entry permission, will also be granted a visitor visa.
A person may stay in New Zealand in accordance with the conditions on their visa.
Visitor visas granted at the airport are electronic, meaning a person may not be given a stamp or label in their passport.
United Kingdom: UK passport holders who can produce evidence of the right to reside permanently in the UK can be granted a visitor visa for up to six months upon arrival in New Zealand.
Australia: Australian citizens and permanent residents do not usually need a visa to travel to New Zealand.
If you are a visitor from a visa-waiver country, you apply for a visa when you arrive by filling in an arrival card. You will still need to meet standard health and character requirements but this will be done with a declaration on your arrival card. You will be allowed to stay for three months (or six months if from the United Kingdom) on each visit, and no more than six months in any 12-month period.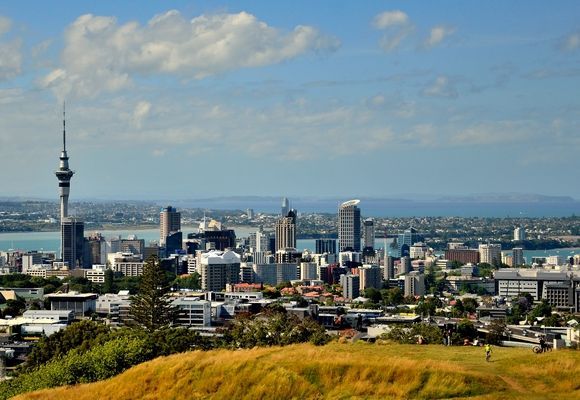 Arrivals in New Zealand
Every passenger entering New Zealand is required to fill in the New Zealand Passenger Arrival Card (PAC).
Since the end of June 2010, passengers have begun to see a new version of the PAC. It does away with the notes section creating a much smaller, streamlined card, while still collecting all essential passenger information. The information collected from the cards is used by nine different agencies including MAF, Customs, Immigration, Statistics, Police, and the Ministries of Health, Justice, Tourism and Transport. The data plays a vital role in border security, but is also used for data matching, statistics and other purposes authorised by law.
Customs and your belongings
Qualified MPI Biosecurity inspectors may be the first New Zealand representatives you meet. You may also see the inspectors accompanied by Ministry for Primary Industries Detector Dogs. They are trained to sniff out any risk goods that you may be carrying.
Your bags may go through an X-ray machine and may be searched to identify any biosecurity restricted goods on arrival into New Zealand. The X-ray units use a very low radiation level and are completely safe.
Many items may be allowed into New Zealand after inspection or treatment. Some items require documentation to enter New Zealand. You may wish to consult the Import Health Standards for regulations regarding an item you wish to bring. In particular, if you wish to bring dairy products, eggs or meat for human consumption into New Zealand, the item will need to meet the requirements of the appropriate Import Health Standard.
Thoroughly clean all dirty sports gear, camping and outdoor equipment and footwear you wish to bring before packing. This is especially important if you have visited a foot and mouth disease infected area. For preparing fresh water equipment for travel to New Zealand, appropriate cleaning methods should be used.
To save yourself time on arrival, it's helpful if you pack any risk goods and required documentation at the top of your baggage. When you declare any items that are prohibited in New Zealand, you are likely to have five choices:
The items will be inspected and returned to you.
The items will be held for you and returned when you leave the country (unless, for example, you arrive by air but are leaving on a cruise ship).
The items will be re-shipped at your expense.
The items will be destroyed at no cost.
The items will be treated at your expense. You will need to make arrangements to collect the items once treated. Please be aware that some items cannot be treated.
It is your responsibility to pack your own bags to be sure that you comply with the law. Occasionally live pests (e.g. insects and animals) "hitchhike" into New Zealand inside bags and equipment. Be careful when unpacking, and if you notice any organisms that may have arrived accidentally, call 0800 80 99 66.
For a full list of what you must declare on arrival, please refer to the Ministry for Primary Industries.
What our customers have to say
In Feb to March this year, we had a wonderful month touring in NZ and all with the help of Romain at OUAT. It did all feel a bit like a leap of faith, but...
Jane Chaplin, UK
OUAT organised a great trip on the Hollyford Track. The lodges were wonderful with the most decisions food. The guides really knowledgeable and friendly....
Susie and Alice Hoddell, UK
Every detail was just right. Once Upon A Trip made our New Zealand experience an absolute delight. All of the places we over-nighted, the camper we rented...
Shelley Sweeney, USA
VIEW ALL